New hunting coalition convenes
October 21, 2010 10:36 PM
MATT MAXSON – SUN SPORTS EDITOR
Citing its multi-million dollar impact for the state's economy, business leaders and retailers announced a new statewide hunting coalition on Thursday. It's called Hunting Works for Arizona, and its goal is to preserve hunting in Yuma and throughout Arizona.
The group includes local entities like the Yuma County Chamber of Commerce, Sprague's Sports, Brownie's Restaurant, the Yuma Landing and other area businesses that are impacted directly by hunting throughout the state. Along with Arizona Game and Fish Vice Chairman Robbie Woodhouse, the group explained the importance of the sport to the economy.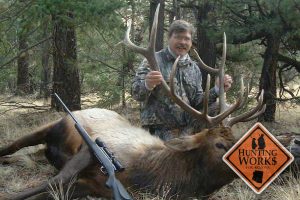 "Even in this tough economic time that we're all going through in our state and our country, these hunting and fishing dollars stay relatively constant," said Woodhouse. "Hunting and fishing license sales have taken a slight hit in volume … This is a very steady part of our economy."
Woodhouse explained that the importance hunting has for the state even applies to non-hunters. Money raised from hunting licenses and tags are used to fund wildlife preservation projects throughout Arizona. He hopes that Hunting Works for Arizona will be able to better communicate that to the public.
"In the coming weeks, months and years, we hope to make Hunting Works for Arizona a prominent voice advocating sportsmen issues," he said.
One of those issues the group is certain to advocate is the passage of Proposition 109, a measure on the November ballot that will make hunting a constitutionally protected right, advocates explain. The measure has come under fire from its opponents recently, many of whom say that it is likely to politicize the sport.
Woodhouse made his leanings clear, wearing a button that said "I support the right to hunt and fish," but said the group's goals go beyond passing a ballot measure.
"I'd like to make it very clear today that even though there are obvious ties to Prop 109, we're here today to promote Hunting Works for Arizona and the economic impact (it has) for Arizona on that," he said. "Obviously, I think you can make correlations there."
Richard Sprague, owner of Sprague's Sports, and Yuma County Chamber of Commerce Director Ken Rosevear each said they've seen the direct impact here in Yuma.
"Hunting drives probably 40 percent of our business, and it's something that we're very passionate about," Sprague said. He said he employs 28 people at his store, which wouldn't be possible if hunting weren't as prevalent.
Rosevear commented on the importance dove hunting has had in Yuma, saying that contributes almost $2 million to the local economy. That's only a fraction of what is earned throughout the state.
"Arizona hunters spend over $200 million a year in this sport," Rosevear said. "That creates 4,200 jobs in Arizona."