Dove Season Impacts Yuma Economy
YUMA, Ariz. – Dove season started with a bang early Wednesday morning, but some hunters say the number of doves were not as high as the Arizona Game and Fish Department predicted.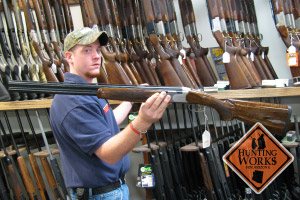 Arizona Game and Fish public relations officer, Chris Bedinger, said it's hard to tell the number of doves out in Yuma County right now, but predicted the numbers would be up. He said that's the reason why the Arizona Game and Fish allowed all-day hunting for the first time since 1988.
However, after day two of hunting, some hunters say they were disappointed with this year's dove hunt.
"Yesterday was a heck of a lot better than this morning. I don't know where the doves went," said Jeff Norris, a dove hunter from Southern California. Others think the number of birds may be down because there are more hunters.
Sprague sporting goods owner, Richard Sprague says the doves may be harder to find because of last Thursday's storm. Sprague said, "It doesn't mean they're all gone. It just means they relocated and you have to go out and look for them."
Bedinger also said Thursday's storm may have caused birds to shift around the normal spots hunters go.
The dove count isn't stopping hunters Eric Bimber. He's from the Los Angeles area and says he drops $500 to $600 every year for a three-day dove-hunting trip to Yuma.
"I've come here for 15 years. We come back to this place because we like it, we enjoy it. We like the hotel, the number of different types of restaurants," said Bimber.
Hotel owners say they look forward to dove season and repeat customers like Bimber every year. James T. Dillon, the owner of Howard Johnson Inn said he has seen a slight increase in profit. "Last year was really badly impacted by the recession. Out of the 120 rooms I have, we have filled 80 for the first two days of dove season. I don't think it's as bad now as it was last year."
Sprague said his sales are up too. "We're talking single digits, like a four, five percent difference."
It's a small increase Sprague says helps Yuma rake in the dollars like hunters rake in the doves. He said it's a little too early to final numbers, but said Yuma definitely benefits from these hunters coming to our area.
"We've crunched numbers in the past. I've worked with the Chamber of Commerce and Game and Fish and we think it's a $3 to $6 million dollar shot in the arm to the Yuma economy.
Dove season ends on September 15.